Guelph
Social Media Agency
The marketing agency that brings a Fresh Crowd to your business.
SPEAK TO YOUR SOCIAL MEDIA EXPERT TODAY!
SPEAK TO YOUR SOCIAL MEDIA EXPERT TODAY!
LOVE LOCAL. LIVE LOCAL. BE LOCAL.
Our social media marketing campaigns have made a huge impact on businesses all across North America and we're proud to have partnered with top brands like:

Fresh Crowd is on a whole new level when it comes to social media marketing. They are innovative, creative and know how to brand. I couldn't be happier with Fresh Crowd and the added exposure and raving fans they have added to our business. If you are currently attempting to do your own digital marketing and strongly urge you to call Fresh Crowd and let them help take your company to the next level.
Guelph Social Media Agency
In the heart of Guelph, Ontario lies a full-service social media agency that has the tools and experience necessary to make your company stand out from the rest. We put our creativity to the test for clients to create a social media presence those around them won't soon forget so they can become the thought leader in their respective industry. Ultimately, we help you crush your competition across various popular social media platforms because, at the end of the day, people like you deserve recognition for all their hard work.
Let your goals become ours here at Fresh Crowd in Guelph, where we specialize in bringing a fresh crowd to your business.
Our social media marketing team are true experts when it comes to creating a customized online presence for each client. After all, our CMO, Jay Hunt, has been an advertising expert since 2007 where he actually learned all about the effectiveness of digital marketing in Japan! After moving back to his homeland, Canada, he knew he could continue putting his creativity and strategic social media marketing tactics to good use for businesses all across Canada. With a strong team behind him, Jay set sail in the social media marketing world and created Fresh Crowd. Their goal? To bring a fresh crowd to your business, no matter your industry, through effective social media campaigns.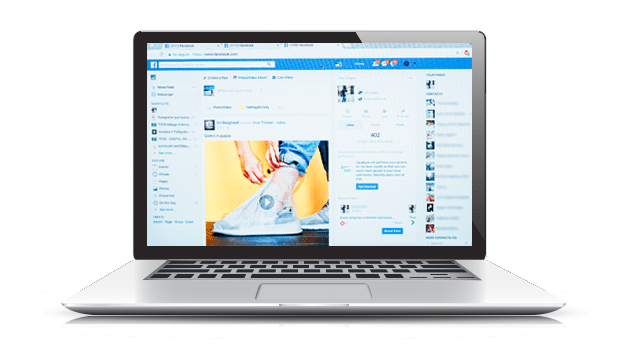 Everyone knows how popular Facebook is. It's the fastest-growing app in the world, now reaching almost 2.5 billion monthly active users. So, since it's so popular, it must be a great platform for building brand awareness, right?
Right! We stay up-to-date on Facebook's ever-changing trends and algorithms so we can create a personalized, creative, and effective ad campaign that will target the right audience for your specific brand and services. It's not just about getting "likes" on Facebook. It's about retaining your followers' attention with content that provides them with enough value so they stay engaged with your brand. But more importantly, we help turn those followers into qualified leads.
We wouldn't be a social media agency if we didn't also specialize in creating Instagram ads that capture the attention of users scrolling through their feed! Facebook may be the most popular app in the world, but Instagram is the most popular digital marketing tool because of its ability to target a different demographic with eye-catching photography and videography. And, did we mention we also have professional photographers and videographers in-house? When we create a social media strategy, we utilize our in-house specialists as much as possible so your products and services stand out from your competition.
A lot of clients don't understand the power of LinkedIn advertising. But surprisingly, there are just over 300 million monthly active users (many who own their own businesses) on the platform searching for quality content they can resonate with. LinkedIn can be a huge lead generation platform to help your company grow and overall improve your online presence with effective ad formats, compelling photography and videography, and optimized content.
Once you've met with our team, we can determine the best digital marketing tactics for your specific brand and create a social media campaign tailored to meet your business goals in Guelph. Your business goals are now ours and our team goes above and beyond to ensure they're within reach.
In order to make working with our company even easier, we assign each client a social media manager for a one-contact method. They will be in charge of posting your social media content for you on a regular basis to improve your online presence with visually appealing imagery and alluring content. Your company is bound to grow once our digital marketing strategy is set in motion, but we don't just provide clients with social ad campaigns. Our team has yet again taken it a step further in order to provide our clients with the best marketing experience out there.
Schedule a Free Consultation Today.
Stop wasting your money on social media advertising that isn't optimized properly. This won't bring you the results you desire. In addition to our creative advertising solutions, we include effective search engine optimization (SEO) strategies so your business is first on search engines.
A Personalized Digital Strategy
Each client will receive a personalized social media campaign. Because advertising on social media platforms has become the most popular form of gaining more business, they've actually made it easier for us to personalize your campaign goals. Whether you want to advertise on Facebook, Instagram, LinkedIn or more, we can target specific customers based on their location, gender, spending habits, interests, pages they follow, etc. This makes retargeting much easier too. Retargeting is the act of getting back in front of those users who have already purchased through your site.
We're More Than A Social Media Marketing Agency
During your consultation, we truly take the time to get to know each of our clients, including their short or long-term business goals. Sure, you want to raise brand awareness and improve your online presence with consistent social media posts that are engaging and appealing, but you also want a website that will blow your customers away. That's why we're also proud to offer web design packages and graphic design services for any business wanting to increase web traffic and convert more leads into sales.
Your fresh crowd is awaiting services like yours. You can start growing your company's reputation today by giving us a call or scheduling a date and time with Calendly to meet with Jay. We look forward to helping you reach your goals.
Your Trusted Digital Marketing Agency In Guelph.
We get it. There are many Guelph advertising agencies. But we're here to look out for your best interest. Our business was built of three important factors: trust, dignity and creativity, and we stand behind that.
Leverage The Power of Facebook and Instagram Ads to Grow Your Business.
We can help you scale your business using Facebook advertising and help you achieve faster business growth!
Contact Our Social Media Agency Today!