Winnipeg
Social Media Agency
The marketing agency that brings a Fresh Crowd to your business.
SPEAK TO YOUR SOCIAL MEDIA EXPERT TODAY!
SPEAK TO YOUR SOCIAL MEDIA EXPERT TODAY!
LOVE LOCAL. LIVE LOCAL. BE LOCAL.
Our social media marketing campaigns have made a huge impact on businesses all across North America and we're proud to have partnered with top brands like:

Fresh Crowd is on a whole new level when it comes to social media marketing. They are innovative, creative and know how to brand. I couldn't be happier with Fresh Crowd and the added exposure and raving fans they have added to our business. If you are currently attempting to do your own digital marketing and strongly urge you to call Fresh Crowd and let them help take your company to the next level.
Winnipeg Social Media Agency
What drives more traffic to your website? What makes you gain more followers on social media that turn into dedicated customers? What makes your business truly stand out from the rest in Winnipeg?
Us! Fresh Crowd proudly services industries of any sort across Canada. Our wide range of social media marketing solutions is bound to bring more success to your business as we improve your brand authority, online presence, and improve customer experience. We help to generate more qualified leads so you can rest assured knowing your Winnipeg business will stand out from the rest with a professional marketing agency behind you.
Why You Should Hire Our Winnipeg Social Media Management Team
We have the team and equipment necessary to make you realize the full potential of your business across multiple social media platforms like Facebook, Instagram, LinkedIn, Twitter, and more. Social media advertising can bring a new wave of customers to your business that you didn't even know were out there. But the majority of your potential customers are all on social, so why aren't you? Your competition is social too, so in order to get ahead of them, it's time to introduce your business to new platforms. That's why we're here to help.
Facebook Advertising
Since Facebook holds the title of the fastest growing social media platform in the world, you need creative ad content that will make your brand and services stand out. Our in-office team has the skills and experience necessary to target the right audience with content that is tailored to help you reach your specific goals. Odds are, your clients are spending most of their time on Facebook every day, but better yet, it's a great way to generate more business quicker and improve your brand authority.
Instagram Advertising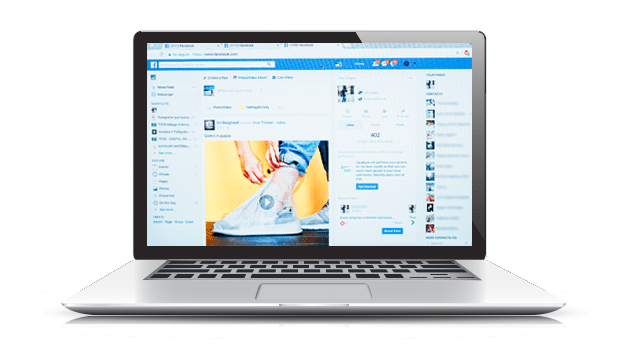 With the potential of reaching over 845 million customers on Instagram, our bold and professional social media campaign strategy will help you connect with a different demographic than Facebook or LinkedIn. Our advertising content will make you stand out from your competition and get people to stop scrolling through their feed. In fact, 200 million users will visit a business's profile at least once a day, so why not make yours the one they decide to visit? Our creative experts know what it takes to design an eye-catching ad they can't resist.
One-Contact Method
We take pride in our ability to provide consistent communication with each of our clients. We're dedicated to providing a certain level of customer service experience you won't find anywhere else. That's why we assign a dedicated social media manager to your account who can schedule regular eye-catching content on your timelines, schedule your advertisements, and respond to your inquiries as soon as possible
Schedule a Free Consultation Today.
Stop wasting your money on social media advertising that isn't optimized properly. This won't bring you the results you desire. In addition to our creative advertising solutions, we include effective search engine optimization (SEO) strategies so your business is first on search engines.
A Personalized Digital Strategy
Each client will receive a personalized social media campaign. Because advertising on social media platforms has become the most popular form of gaining more business, they've actually made it easier for us to personalize your campaign goals. Whether you want to advertise on Facebook, Instagram, LinkedIn or more, we can target specific customers based on their location, gender, spending habits, interests, pages they follow, etc. This makes retargeting much easier too. Retargeting is the act of getting back in front of those users who have already purchased through your site.
The Winnipeg Digital Marketing Experience You've Been Waiting For
Our services extend beyond social media advertising. We provide a wide range of digital marketing solutions to help bring a fresh crowd to your business. We've helped businesses like yours grow in Winnipeg, so what are you waiting for? Call us today to schedule a consultation with our CMO, Jason Hunt, and he'll discuss how our social media marketing solutions are the right solutions for your company. When we sit down with our clients, we truly take the time to get to know them and their business goals.

If it wasn't already clear, we're passionate about social media marketing and our agency specializes in helping businesses grow through innovative advertising content on various platforms like Facebook, Instagram, Twitter, LinkedIn, and more. We have an in-office team of graphic design experts, content writers, photographers and videographers ready to put their services to work for you. Social media can play a huge role in your company's continued success and we look forward to being the social media marketing team that brings that success to you.
Your Trusted Digital Marketing Agency In Winnipeg
We get it. There are many Winnipeg advertising agencies. But we're here to look out for your best interest. Our business was built of three important factors: trust, dignity and creativity, and we stand behind that.
Leverage The Power of Facebook and Instagram Ads to Grow Your Business.
We can help you scale your business using Facebook advertising and help you achieve faster business growth!
Contact Our Social Media Agency Today!