Grocery stores are essential in any community – a standard establishment that most residents depend on for food and household products, whether a sudden weekend purchase or huge grocery shopping for the entire family. However, technology has anchored itself into almost every business corner, and local grocery stores are included.
In the digitalized world, the function of the internet is now more paramount than before. The new phenomena of digital marketing have caused a paradigm shift in existing marketing with state-of-the-art ideas to market. Most people devote 28% of their Internet time to social media.
For this reason, all businesses, including your grocery store, must create a social media marketing strategy and manage the business social channels in a logical, well-thought-out way. Social media delivers an abundance of opportunities for brand recognition, generating community engagement, and driving sales.
Planning your Social Media Strategy
Your social media strategy must start with a marketing plan. It sets a framework around your endeavors, so you can assess your success and ascertain you're using your resources appropriately. Here's how to create your digital marketing plan.
Identify your target audience
The first step is to determine your customer. You need to be as detailed as possible to make your analysis more workable. Take note of the findings for the following criteria:
Age

Gender

Income and education level

Interests

and other variables
Use the results in creating your customer profile. Knowing these demographics can help you convert social media followers into loyal, repeat customers.
When exploiting social media marketing for local grocery stores, you must establish goals and objectives that will truly help you thrive. Have your social media goals be consistent with your business goals.
The more clear-cut and time-honored your social media goals, the more likely you'll fulfill them. That suggests giving your objectives a single direction, using metrics to determine what success appears to be, and creating targets or deadlines to reach these goals.
Choose your social media platforms
Each channel is impressive, with its own best expertise, system, and user. It'll help if you opt for the social networks that valuably match your strategy and the goals you desire to reach on social media. You'll also need to think of how your audiences spend time on a particular platform. You don't need to have a profile on all of them, only those that are of significance to your business and your audience.
9 Social Media Marketing Techniques
Content plays a vital part in social media marketing. It entitles you to firm up your standing as a go-to grocery store for your customers. Remember to post regularly and offer helpful information that your prospective customers will find beneficial and exciting.
Take into account that your customers also follow many businesses on social media, so your post can quickly disappear in a sea of content. But if your content is enticing enough, you have a greater shot of attracting your customers and persuading them to read your content.
Try these content ideas:
Contents on How-tos, quick tips, or any informative content

Share recipes

Local and industry news

Create Polls / Ask questions / Post contests

Updates and announcements of your store
It also suggests taking advantage of social media's many formats, such as images and videos.
Using Twitter lists is an exceptional social media strategy for learning about the events, news, and competitors relevant to your business and local market. It helps you use your time wisely on Twitter, considering you can more conveniently meet, keep track, and connect with the right audience. You can nurture a close connection with your customers by retweeting and using mentions.
With Twitter lists, you can be in the loop of what's relevant in your community, checking out what's enthralling for people at the moment to create significant social media posts.
Live video or streaming is becoming quite prevalent as among the most sincere practices to engage with customers and build trust. You just need a platform with live video options, like Youtube, Instagram, and Facebook page, and now you can start!
Live streaming can be an excellent tool for plugging new product deliveries, giving in-store tours, tutorials on new products, or conducting Q&A sessions. Take videos of your stocking shelves process and the people who work in the grocery store. Showing a behind-the-scenes glimpse at your store to your digital shoppers is also a tremendous omnichannel marketing technique!
To boost engagement, try broadcasting your schedules for the live video beforehand so your followers can prepare to watch.
Your business social media strategy and hashtags are closely connected. Hashtags can undeniably improve post impressions, help your content appear to those beyond your system, and generate quality leads. Posts with hashtags earn 2x more engagement.
Choose a specific hashtag that addresses your store values and use strategies, such as social media, in-store posters, and emails to persuade shoppers to use the hashtag. Monitor the hashtags on social media so you can repost them to promote even more sharing!
Continue experimenting with business hashtags to determine what truly works for you.
Stories are a great way to connect with your audience when you want to interact more personally with them. There are almost one billion users across social media platforms posting their Stories regularly.
With a modernizing social landscape, businesses must follow the trends to remain pertinent. If you have a special one-day sale or are renovating some sections within the store, stories are a perfect place to notify your customers.
You can begin by doing day-to-day check-in stories, new product unboxing stories, product tutorials, a countdown to new products or store events, sharing coupon codes and special offers, etc.
Communicate with your audiences
People don't simply browse social media to read promotions or content or watch videos. They use the internet to communicate with others and to socialize. Successful businesses do not simply advertise to their social audiences; they also interact with them.
By concentrating your engagement on the social platforms your target market visits, you can benefit from your resources expertly. For preference, you must answer all social mentions of your business because it allows your audiences to know that you're giving close attention and care about customer feedback. Making time to respond to messages can help you fetch more customers in your store and maintain relationships.
Granted that owned and earned media have their unique marketing value, paid social media is the best possible way to accrue traffic and sales on the first day. Current and prospective customers are exposed every day to various types of advertisements. 
Your social media ads can help you accomplish myriad goals, such as:
attract more customers

increase brand exposure

grow website traffic

improve conversions and increase revenue

stand out from the competition
Besides goals, you'll also be able to utilize many ad formats. The format availability will vary depending on the platform, how appropriate they are for your goals, budget, and the intended audience.
Another great social marketing strategy to broadcast your services and products is through messenger marketing. Many customers choose to chat over calling or emailing because it's more convenient, gives instant assistance, and can still multitask.
For example, Facebook and Instagram direct messages simplify for prospective clients to make an inquiry and claim offer on the networks they're already frequenting. They can be an excellent way to engage personally with your customers and have one-on-one sessions that generate trust in your business.
Using social media for digital marketing allows your business to broadcast your brand image across various social media channels. Although each channel has its distinct context and approach, consistency is key.
From the style of your profiles to the tone of voice used in messages and the frequency of your content, you have to be noticeable to gain traction among your targeted audience. Whatever you choose to do – do it consistently.
This brand consistency helps you build more promising brand awareness and makes it easier for customers to remember your store over the long term.
When it comes to developing a social media strategy as a local grocery owner, it is vital to know your local audience and create content that is built on transparent goals and objectives. We hope these social media campaigns and tips have things progressing, and any minute now, customers are surging through the entrance door.
Want More Social Media Tactics?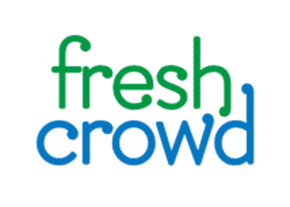 A solid social media presence can generate more leads, build a better customer relationship, show authenticity, and increase conversion rates. If it's time-consuming on your part, that's when a marketing expert like Fresh Crowd comes in.
Partner with us, and we'll help you achieve visibility for your target audience and reach more customers for your grocery store. Call us now!