The marketing world has existed for some time and has undergone dramatic changes.
Internet users have higher expectations for finding products, and services online. And the role of social media for product research is substantial.
Nonetheless, one can't argue that traditional marketing has ceased to exist. We still have billboards, TV ads, and other traditional marketing channels.
Those passionate about pursuing marketing professions should know the substance of developing strategies that combine traditional and social media marketing. Those who do otherwise can inhibit a campaign's scope and limit its effectiveness. A crucial aspect of broadening this knowledge is familiarizing oneself with the differences between social media marketing vs. traditional marketing.
Traditional marketing and social media marketing have two mutual purposes: attracting customers and boosting brand awareness in the competitive market.
What is Traditional Media Marketing?
Traditional media is any form of mass communication available and the choice of companies before the arrival of digital media. Consequently, traditional marketing strategy naturally deals with advertising your business and reaching your target audience offline.
Traditional marketing is not just among the oldest marketing methods but also the most studied. Market leaders prefer this approach as it's time-tested. Everyone comes across traditional marketing in their day-to-day affairs, whether picking up your daily newspaper, watching a tv ad, or listening to the radio.
Regardless of the comprehensive digital effect in today's world, traditional marketing still has its influence and does its element for mid-sized companies and huge enterprises that fully harness television commercials to market their products and services to the public. Advertising on television is typically the highest form of marketing, with costs varying on the programming content and the time.
In addition, print media has 63% of popularity among consumers, and 61% of readers trust newspaper bulletins, indicating that this marketing strategy is still influential today.
They're all over the place, doing everything to convince us with flamboyant advertisements and sales copy-heavy. However, are they doing a satisfactory job? Or are they merely flooding you constantly with the same message?
Type of traditional marketing channels
It incorporates randomly cold calling potential clients, who had no prior dealings with a salesperson, to build a close connection and advertise your product/service.
Broadcast marketing is a form of advertising your business on channels, such as on-screen theater, radio ads, tv commercials, and other media.
It is any physical correspondence you send directly to your target market, like catalogs, brochures, postcards, letters, flyers, and other printed materials.
A marketing strategy that uses physically printed media like newspapers, newsletters, magazine ads, or any other printing publisher or distribution channel.
SMS marketing pertains to delivering a text message over the phone to customers about campaigns, promotions, news, updates, and more of a business.
Referral marketing is a method that uses recommendations and word-of-mouth to grow a business's customer base across the circle of its current clients.
What is Social Media Marketing?
Social media has transformed how we behave as a community, like connecting and sharing information here and now. With billions of active users on each platform and the reasonable price of utilizing these social media platforms, social media is a future profit center you can't afford to disregard. 
Social media marketing is online marketing that uses social media channels to obtain more public attention for your business. Several social networks enable users to supply detailed geographical, demographic, and personal details, enabling marketers to attune their messages to the most likely to accord with social media users.
Social media marketing can have many different shapes—from direct advertisements to more discreet routes for a business to develop connections with prospective customers as they promote their beliefs, mission, or character.
Types of Social Media Marketing
Besides Facebook, Instagram, and Twitter, digital marketing in social media takes several forms, like:
content marketing/creating

advertising

paid social media ads

social media management/community management

reviews

participating in forums

influencer marketing
If you're earnest about expanding your business, don't solely target the giant sites with vast clients. While they're an inevitable site to launch, try to find different, more clever methods to attract your prospects and generate leads.
Likewise, while searching for some of these other ways, determine which content achieves better outcomes for each channel to maximize your results.
Traditional Marketing vs Social Media Marketing: Pros & Cons
More extensive reach: You can grab the attention of your local audiences and international as well. Furthermore, contrary to traditional media, there are no prearranged clients on social media, providing you access to an endless demographic about age, gender, location, or social standing.
Cost-effective: Among the primary pros of SMM over traditional media and other digital marketing channels is the remarkably lower cost, making it engaging for companies. The best-known social media sites are reasonably free to sign up for, and all tools for connecting with other people are also free.
Can learn more about your clients: As you engage with and respond to your audiences, you'll know your customer base better. Many users add personal details on their social media accounts, such as likings and want relevant to businesses.
More options for engagement: Social media marketing was created upon interaction, a social media standard. You can visibly see what your clients weigh up your brand and digital marketing strategies through these digital channels' likes, mentions, comments, and retweets (i.e., Facebook and Twitter)
Easy to measure campaigns: Social media platforms have built-in analytic tools that make keeping tabs on data about your social media marketing efforts more manageable.
Evens the playing field: Digital Marketing levels the playing field for all. It offers fair and uniform opportunities to all the establishments, be it multinational companies or newly established ones, to draw in the envisioned shoppers.
Grow your brand at an increased rate: Due to the immersive experience and the direct interaction and communication that social media offers, customers will likely progress faster through the sales funnel.
Time-Consuming: Composing content may take considerable time, effort, and money, depending on the social media platform you'll use and the type of content you wish to share.
Receiving negative feedback: There is always a chance of receiving negative customer reviews and responses because it is not likely to please everyone. All negative feedback is open to all your followers, including your existing and potential buyers when it comes to social networks.
Long result demonstration: Social media might not display consistent findings during the start-up phase of your active social media presence. You may be involved in social media marketing for a lengthy period before you notice a growth in engagements and ROI.
Compelling and easy to comprehend: A striking billboard or a splashy TV commercial is typical for most of our daily lives. Traditional marketing methods may be more fruitful and noticeable than digital marketing methods. They're manageable to absorb and usually engaging.
Printed materials are more lasting: People can keep the hard copies of the advertisements written in the magazine or newspaper they are really into and look at them when they want to purchase that product or service. They can also share those copies with someone who needs that product.
Promotional Materials Are Sustainable – Traditional marketing strategy is more sustainable, and seeing something in the flesh tends to be remembered more, unlike on your phone or computer. The same TV commercial, flyers, business cards, or brochures can be utilized more than once. Thus, it's unnecessary to produce new materials frequently to advertise your brand.
Better connection with the audience: Advertisements can be arranged on the local news footage and channels of the involved region to target new customers quickly. Also, some individuals are more accessible to gain through traditional marketing than online marketing, like people residing in areas with limited network connectivity or no internet access.
Credibility Builder: An enterprise that can afford to set off an ad in a commercial on radio or television must possess the financial capacities. Hence, the impression is that the company is expanding, thriving, and stable.
Harder to measure campaigns: There are methods to measure traditional marketing campaigns, like brand trackers. Still, they are far from as thorough or advanced as the tools accessible for digital marketing.
Often expensive: Traditional marketing tactics can be more expensive than digital marketing as a business must pay for putting advertising in newspapers or leaflets, developing the advertisements, and the cost of purchasing media spots.
No customer engagement: Contrary to an internet marketing platform, you're practically uninformed concerning your audience's reaction to your marketing strategies.
Revision Often: There can be errors when composing marketing communication or messages. Advertisements printed in newspapers, magazines, and brochures are challenging to edit and cannot be revised once published.
Provide less information: It isn't easy to feature intricate pricing options and deals for the product in traditional marketing. The print media does not have sufficient space to show all the different variations of the costs and other discounts, which might attract the buyers.
Slowly losing its audience: When devising your campaign, you need to consider who reads a newspaper and magazine or watches standard TV programs nowadays. Although there are apparent portions of physical newspaper readers and network TV viewership, there is true that e-readers and paid TV subscriptions are switching the way people of all ages absorb news and announcements. Traditional media outlets are also adapting to a new era of buyers.
You have to consider the recent development of digital marketing. Modern consumers race to check social media when they need to learn more about a business or product/service because that's where they'll see others speaking about that business.
Presently, 60% of marketers from different industries have switched their priorities to digital marketing.
Here are some more statistics to better show you how digital marketing advances and earns recognition.
From 2020 to 2025, the number of people worldwide who use social media is expected to increase from 3.6 billion to 4.4 billion.

Over 80% of buyers do their research online before buying anything.

Social media will account for 33% of all digital advertising spending this 2022.

Facebook is used by more than 70% of all Canadians regularly.

B2B companies used LinkedIn 94% of the time and Twitter 87%.

Last 2021, 73% of all eCommerce sales came from mobile.

According to a recent survey, 90% of B2C businesses utilize social media as their most effective content marketing strategy.
Can They Go Hand in Hand?
Absolutely.
With all the worries about social media taking over traditional media, the truth is that renowned enterprises require both to thrive. There's a time and a place for both marketing strategies.
Traditional marketing and social media marketing methods used simultaneously has the prospect of generating some crazy results for your business. They are brilliant practices for your company to broaden your audience, attract more people, build brand loyalty and create more conversions. Thus, helping you reach the result you desire — more exposure, more customers, and more sales.
The technique for combining digital and traditional media marketing methods is to connect and correlate all marketing strategies. If one approach doesn't run satisfactorily for a couple of months, you don't need to stress dropping much because the others will compensate for it.
The only legit obstacle to utilizing both is your company's budget, but you can get that back with sufficient returns.
It depends on your business.
For many companies, digital marketing on social media is the most preferred method. If you need to reach people worldwide while maintaining the cost moderate, hire a professional digital marketing agency. However, if your target audience is the local people of a specific geographical region, you must proceed with traditional marketing.
Whatever form of marketing you carry out, you'll play an essential part in expanding a company's reach and nurturing its growth. The possibility of devising tactics to interact with the public and impact behavior makes it a gratifying pursuit in business, regardless of whether you're creating a campaign digitally or traditionally.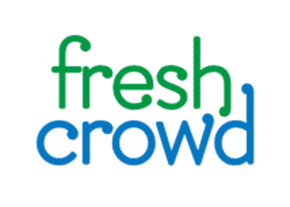 Let Fresh Crowd Optimize Your Social Media Marketing Efforts
If you're searching for someone to assist you with your social media campaigns of your business, contact us today.
Fresh Crowd is a professional social media marketing agency that uses state-of-the-art strategies to maximize and optimize your social media profiles. Our in-depth analysis of what you're accomplishing and what you can achieve more will boost your brand among an audience you once couldn't reach. Call us now, and we'll be glad to help you!